Who We Are
PPLLC is a privately held company with 35 years of polymer processing expertise. PPLLC is headquartered in Northeast Ohio and offers custom thermoplastic compounding and processing services. PPLLC holds ISO 9001:2015 registration.
PPLLC offers a full range of thermoplastic polymer services, including custom compounding, solid state polymerization, melt filtration, pelletizing, crystallization, drying, blending, and de-dusting. PPLLC is able to meet the most demanding compounding requirements with twin screw technology, which includes 92mm, 50mm, and 40mm lines. Our compounding lines are equipped with multiple feeders and injection ports, venting/vacuum, and continuous screen changers for ultra-fine melt filtration (200/400 mesh).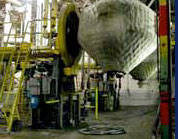 PPLLC compounds both filled and unfilled thermoplastic compounds/concentrates (additive, mineral, glass, color, FR). We process most thermoplastics, excluding PVC. In addition, PPLLC operates multiple 6" and 4-1/2" single screw extruders for recycled material pelletization and melt filtration. PPLLC's USA site encompasses more than 175 acres with a facility in excess of 440,000 SF. PPLLC can accommodate 38 rail cars with silo capacity in excess of 2.5 million pounds. We routinely process over 80 million pounds annually.
PPLLC is a leading
thermoplastic solutions provider
PPLLC provides recycling solutions for post consumer and post-industrial resins, including PET. Single screw extrusion technology is used to melt process and filter recycled flake into pellets. PPLLC's capabilities include drying, extruding, and underwater pelletizing flake to provide a pellet feedstock for further processing. PPLLC routinely increases the IV of recycled polyesters and nylons for specialty applications.